Vicar's Address
BEING WITH GOD AND GOD IN US
Some of our people who are preparing for confirmation are working through Rowan Williams' Book on Discipleship. Of course this study series is open to anyone who is interested. Please let me know if you would like to be part of this group. Discipleship is something that is central to our lives if we truly want to follow in the footsteps of Christ.
So what is the driver of our motivation to be a disciple? To me, prayer is at the centre of everything we do and it is at the heart of discipleship. Prayer is at the heart of our relationship with God.
Our scriptures tell us the nature of God is love and compassion; and they assure us of God's readiness to hear and attend to our prayers.
It is through prayer that we get to know God more fully, and as we know God more fully, our prayers become more confident and more persistent.
Hosea 1:2 — 10 describes God's nature of love and compassion emerging, even at bleak moments. This is common through scripture with one of the best known experiences being when Jesus was with the disciples in the storm which Jesus calms. In this story it is talking about a storm in nature but the real meaning of the story is about Jesus calming the storms of our lives. These storms of life are known to us as we travel through highs and lows.
We need to remember we are all God's people. So all is never lost. God's love and compassion break forth, promising that the people are called "children of the living God."
In Luke 11:1 — 13 Jesus teaches his followers a model prayer: The Lord's Prayer, also known as Jesus' Prayer, or The Prayer Jesus taught.
Here Jesus is teaching about living as disciples.
The first two statements in the prayer establish its foundation as God is Holy or Hallowed. We call upon God to give us what we need for our daily lives — by way of bread, to sustain our bodies and to sustain our spirit. Another essential in life is forgiveness. We call upon God to not only forgive us but also to help us to forgive others and to forgive ourselves. This is so necessary for a healthy and happy life.
When we are at peace with God and others, when we are at peace with ourselves and with others then life on earth will more closely resemble what God would have it be.
During the past month we have talked a lot about prayer. We have and are trying to establish a prayer net. We are invited to draw a name each week from a box in church and to keep that person in our prayers throughout the coming week. Equally someone is praying for us throughout the week. As the weeks go by we will pray for other people who sit with us in church week by week. Perhaps we would like to find the person and assure them of our prayers. In this way we get to know each other better and take our fellow worshipers with us throughout the week. If you would like to be involved in this work of holding each other in prayer please just write your name on one of the pieces of paper at the back of church. These names will be reprinted each week and as you leave the church on a Sunday morning you take a name from the box and remember that person in prayer during the week.
Blessings to you all, as we all seek to be disciples of Christ.
Jan
Please Note
Noeline will be away from the office. If no one is in attendance in the office and you have any messages, please leave these on the answer phone or phone Jan or send an email or put a note through the slot by the office door.
Farewell from the Parish to some special people
We are very sorry to have farewelled two families last month.
Firstly Beranaise and Randall Oliver who have been fully involved in the life of the parish, worship, sewing group, Mothers' Union and the Op Shop as well as involved in Parish social events.
Geraldine and William Koopman have both been involved in worship, William playing the guitar in the 9.30am service and Geraldine in readings, drama and all other aspects of our services. Recently Geraldine went on a mission trip and shared with us about her work on this venture on her final Sunday in the parish. Geraldine has provided us with the report below.
Guatemala Mission trip 2019
By Geraldine Koopman
Called To Serve
I recently went with a group of people to do mission work in Guatemala among the poorest of the poor. We packed food, about one thousand food parcels, and when I wanted to sweep up the beans that spilled over I was told they needed to be picked up because they could save someone's life.
The next day there was a call to the mountains to save a baby. Baby weighed 6lbs at birth and was now weighing 4lbs. Mum was 15 years old and dad 75 years old.
There was also a little boy who had to be rescued because he was so malnourished. Mum had to make a difficult decision: Should she send her baby alone with the help, leave her young children to tend to the household while she's away or does she let her boy die?
The risk of sending children with strangers is human trafficking. Children are used as tickets to cross the United States border and the younger the better because they cannot talk. Tickets can be used many times.
We also spent an afternoon playing puzzles with abandoned old people. One man behind a fence caught my attention. I was told that he was psychotic and in isolation. He asked through the interpreter if he could give me US$2 so I can give it to the Prime Minister and ask to please look after the men in our country. He also gathered mangos that grew in his area and passed them on to us. Those mangos were massive and tasted good.
A 19-year-old autistic girl gave us the most beautiful smile when we visited the orphanage for children living with disabilities. The translator told us she was used by her dad and brothers for sex trafficking for US$2 a day.
We spent time with people living on a rubbish dump. Hope of Life feeds them three times a week. A little girl caught my attention. When she pulled on my shirt I bent down and made eye contact with her and she said "thank you" in English.
Coffee trees were everywhere and since they have not had rain for three years nothing grows in the area. This is devastating for those who live off the land. I wondered about the coffee trees being harvested to supply the Western world and how it possibly impacted on global warming. But I did not ask the question.
On my way back I asked God, 'Where to from here?' And I heard the Lord say that if I look for Him I will always find Him, but if I look for Him in the difficult and uncomfortable places I might be astounded at what I might find.
Bible Readings in August
With readers for St Andrew's
4 August
First: Hosea 11: 1-11 (Reader 8am Bruce, Reader 9.30am John B)
Gospel: Luke 12: 13-21 (Joan, Bob)
Theme: Loving God Back
8th Sunday after Pentecost
11 August
First: Isaiah 1: 1, 10-20 (Graeme, Glenis)
Gospel: Hebrews 11: 1-3, 8-16 (Graham, Cecily)
Theme: Faith Is …
9th Sunday after Pentecost
18 August
First: Isaiah 5: 1-7 (Heather, Pauline)
Gospel: Hebrews 11: 29-12.2 (Ian, Jill)
Theme: Faith Witnesses
10th Sunday after Pentecost
25 August
First: Jeremiah 1: 4-10 (Jan, Judy B)
Gospel: Luke 13: 10-17 (Alistair, Marisa)
Theme: Out of the Shadow
11th Sunday after Pentecost
NB: If you are unable to do your duty on the rostered date, please try to arrange a swap with someone on this roster. If you are unable to arrange a swap, please choose a person who is not on this month's roster to fill in for you, then please notify Noeline in the Parish Office.
Rest Home Worship Services
Palms Rest Home: 10.30am Tuesday 6 August
Franklin Village: 10.30am Thursday 8 August
Palms Hospital: 11am Tuesday 13 August
Lakeside Rest Home: 10.30am Wednesday 14 August
Pukekohe Hospital: 10.30am Wednesday 21 August
Possum Bourne Village: 11am Tuesday 27 August
Anyone who wishes is welcome to join us at these services
My Apologies
There have been some mix-ups with the issuing of receipts for 2018.
If you have not yet received your receipt please let Jan know as soon as possible. Phone 2387723 and this will be rectified.
Jan
Soup Lunch
Sunday 18 August
If you are willing and able to host a soup lunch on Sunday 18 August or if you would like to attend a soup lunch please put your name on the list in the church foyer.
If you are unable to host a soup lunch but would like to contribute by making some soup please let Jan or Gael know.
Handel Consort and Quire
The Handel Consort and Quire presents Tudor Motets & Madrigals, Sunday 8 September, 3pm, at St Andrew's.
Handel Quire will sing a variety of sumptuous motets and madrigals a cappella from the Tudor period by composers such as Tomkins, Ramsey, Wilbye and Bennet in up to 8-parts. Music includes: How are the Mighty Fallen – Ramsey, O God, the Proud are Risen Against Me – Tomkins, Sweet Honey-sucking Bees – Wilbye, All Creatures Now – Bennet. Dr Simon James will also play a number of items on the recorder.
Later concerts by the Quire at St Andrew's are Julius Caesar, Sunday 13 October, and Christmas Concert, Sunday 8 December.
Anglican Diocese of Auckland
Forgiveness Workshop
with the Reverend Dr Karen Kemp
Dean — Tikanga Pākehā, College of St John the Evangelist
We all know we should forgive! We say the Lord's Prayer and hope God doesn't engage too closely with the line about forgiving others, but in truth we know that as Christians we're great on paper, but not so hot on practice!
We also know it's the one topic that is of universal concern: most people will engage in conversation about forgiveness. They all have a story to tell and most have someone they currently struggle to forgive. This retreat day aims to narrow the gap between our aspirations to be a forgiven and forgiving people and the reality of our brokenness and division. We will look at Biblican and psychological dimensions of forgiveness, and the practices that strengthen and sustain our capacity to forgive. There will be time for inidvidual and group reflection and prayer.
The day is open to both clergy and laity. It is especially suited to those in pastoral ministry or leadership, as well as anyone seeking to explore a Christian understanding of forgiveness.
Register at: bitly/Forgivenessworkship
Saturday 24 August: St George the Martyr, Thames
Saturday 21 September: Patteson Lounge, St John's Theological College
Saturday 19 October: Christ Church, Whangārei
All workshops will run 11am-3pm with tea and coffee available from 10.30am. BYO lunch. Free of charge. If you are interested in attending please let Jan know so we can carpool.
Movie Fundraiser
Pukekohe Anglican Parish presents
DOWNTON ABBEY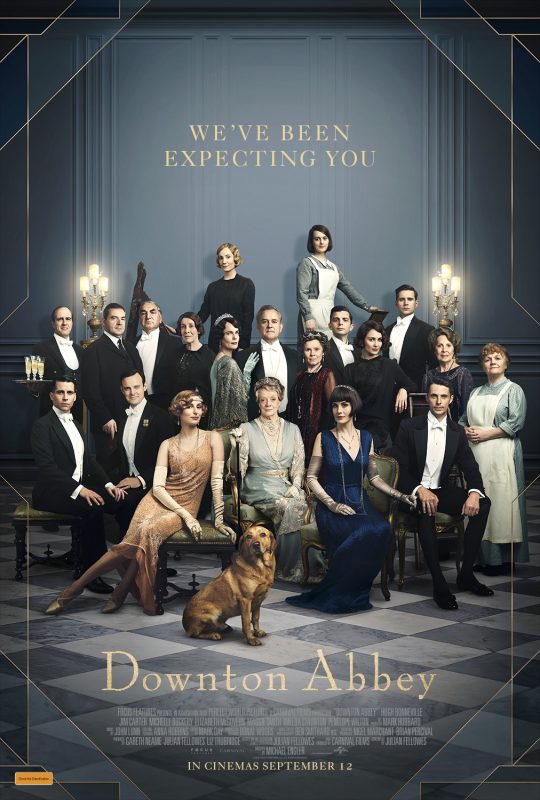 Pukekohe Cinemas, Sunday 15 September, 5.30pm, Tickets $20
Now Available from:
Parish Office 09-238 7228
Cecily Daroux 09-238 8411
Glenis Kerr 09-238 5136
Jan Wallace 0274-521 366
Bring cash for raffles. The cinema also pays us 50c per item for sales of icecreams, popcorn, wines, beers, coffee, etc.
Sustainability
Sustainability is coming to Synod 2019
Two important motions will be presented at Synod 2019 in early September. Well, they're important to John Allen, Jan, Vicky Mee and to the Social Justice Group of the Auckland Diocese.
The first is a motion to be moved by David Hall (Social Justice Group) and seconded by Jan. This requests that the Diocesan Council provide resources and help to all Ministry Units in the Diocese, to develop action plans and resources for the reduction of greenhouse gases and sustainable living at parishioner, parish and Diocesan levels.
That's some mouthful for sure, but if passed at Synod the motion will result in resources being available along the lines of the sustainability actions we have developed here at St Andrew's Pukekohe.
The second motion requests the Diocesan Council to prepare a Diocesan Zero Carbon Plan. That one will be moved by John Allen and seconded by Vicky Mee as a representative of the Social Justice Group.
The means by which a Diocesan Zero Carbon Plan is developed is as important as the fact of having a plan. The process we have recommended is one that builds on the resources prepared under the first motion so that clergy, parishioners and others are well-informed on climate-related matters and given time to deliberate on the issues and arrive at well-considered decisions.
Cheers,
John Allen
Sustainability Fieldworker | Anglican Diocese of Auckland
Ph. 021-463 686
john@wjohnallen.nz | cherishedearth@auckanglican.org.nz
What's Happening; Social Opportunities
Mothers' Union
Monday 5 August, 10.30am. All Welcome
Meet at Hollywood Cafe
(Please note the change of date & venue)
Women's Fellowship
Thursday 15 August, 10am
Meet at the Church for Communion . All Welcome
Soup Lunch
Sunday 18 August, noon
Wanted
Volunteer needed for the brass/silver cleaning roster, every 2nd Sunday of the month
Volunteers needed to help in the Op Shop
Please contact Jan Wallace
Save these Dates
Sunday 15 September, 5.30pm, for Downton Abbey, our Movie Fundraiser
Handel Consort & Quire concerts at St Andrew's:
Tudor Motets & Madrigals, Sunday 8 September, 3pm
Julius Caesar 13 October
Christmas Concert 8 December
Regular Events
Reflective Spiritual Growth, 2pm on the 1st and 3rd Wednesday of the month. Please contact Jo for details. Ph. 238-7716
Tuesday Night Study Group 7pm — 8pm. Please see Jan if you are interested in joining this group. Ph. 238-7723 or 0274-521366