Vicar's Address
The Season of Creation
September brings us to the season of spring. It's a season when we see the arrival of new life and hope as the lambs and calves are born and yet the rain keeps falling. Yes, our climate certainly is changing all too quickly.
At the moment Bob and I are babysitting — no, not the grandchildren, but their pet lambs and calf. Takes me back many years to when the boys were young — time flies by. I have to admit I do love watching creation bursting forth in colour, and joyful new life. Changes are happening.
When things do change some can be good and some can cause us major concern. This is in our personal lives, in our community and throughout our world. Daily we have issues raised on the news or in some other media presentations that cause us concern — or if they don't then they should. It is easy to think, "Well what can I do about it", but the reality is if we don't all take some personal responsibility then environmental problems will continue to increase. The heading of a news article a week or so back was "Iceland Holds Funeral for Glacier Killed by Climate Change". In the same way glaciers are also disappearing in New Zealand.
One of the most impressive scenes I have ever witnessed was when we were on holiday and standing on the deck of a cruise ship in Glacier Bay, Alaska. It was amazing. The face of a glacier came sliding down into the bay with a spectacular crash. As this happened I found myself singing in my head "How Great Thou Art". It felt as if Bob and I were standing on the deck alone amidst the spectacular splash of the glacier's face into the sea. From that day "How Great Thou Art" has been more significant to me. And yes, we may well sing "How Great Thou Art" but we need to remember that we have responsibility and a part to play. In the book of Genesis God gave humanity dominion over creation. And in this case dominion refers to the requirement for us to care for God's precious gift of creation.
We have not done a good job of this so far and during September the Church has the theme of caring for creation as our theme.
September 1 Our Oceans, 8 Fauna and Flora, September 15 Storm Sunday — and we have certainly seen a number of those more recently. We not only have the storms of nature but also the storms that occur in our personal lives and none of us is protected from them. We need God and each other to help us through these times. September 22 is Cosmos Sunday. September 29 brings us to our Confirmation Sunday when Bishop Ross will be joining us. We are fortunate we do have our Bishop with us every couple of years. The diocese has many ministry units and it is difficult for the Bishop to cover all units along with other responsibilities. Bishop Jim continues to be on leave as he battles with ongoing health issues. Please remember to keep both of our Bishops in your prayers.
One of our study groups has started looking at Rowan Williams' book Being Disciples — Essentials of the Christian Lifestyle. It includes a couple of remarks I would like to share.
The first is:
"Being a disciple is like bird watching." We need to stay alert, with expectant watching and waiting, or we can so easily miss God's presence in our lives. As we acknowledge Christ constantly with us and in us, it means we need to be where Jesus is. Interpreting this Williams says "being where Jesus is means being in the company of the people whose company Jesus seeks". Remember, Jesus chooses the company of people who are in trouble and who are struggling as well as those who are celebrating.
Please keep Heather Wrigley, Chelsea de Kock and Emma Wallace in your prayers as they prepare for Confirmation at the end of the month.
We have also had 11 of our younger people spend a series of Friday afternoons together as we have worked through the Eucharist services and given some level of explanation about what we do in our worship services and why we do it.
Blessings to you all.
Jan
Creation and history
are theatres of your
divine presence and action,
My God.
Help me to see this,
And participate as a co-worker.
Amen
Bishop Bruce Gilberd
End of an Era
Yes, Joyce is retiring after years of service!
For me there is a great sense of sadness as our sewing group has come to the point where it is needing to close after decades of faithful commitment to the parish. Yes, this group has made a huge contribution to the finances of the parish, but of even greater importance from my perspective is the fellowship, love and support its members have given to each other. If there are others who would be interested in picking this up or facilitating a craft group I would love to hear from you.
Jan
From the Parish Registers
Funerals
August 9: Thomas Kelso McDonald
Baptisms
August 25: Ayden Victor Carter
Pukekohe Parish at Synod
Synod Motions
At Synod this year eight motions are being considered. Four of them a Pukekohe Parish representative is moving or seconding and in one case moving and seconding.
Motion 1: Legal business committee
Motion 2: Refugees and displaced persons
Motion 3: Grief and loss support services — seconded Jan
Motion 4: Extended the living wage to all government activities
Motion 5: Climate change action — seconded Jan
Motion 6: Diocesan carbon plan — moved John, seconded Vicky
Motion 7: Housing for the elderly and those with disabilities — moved Vicky
Motion 8: Calculation of quota
Please keep in your prayers the work of Synod, our Parish representatives and Bishop Ross as he presides at Synod.
Bible Readings in September
September 1
First: Job 38: 1-18 (Readers: 8am Graham, 9.30am Merlene)
Gospel: Luke 5: 1-11 (Phil, Pauline)
Theme: Ocean Sunday
12th Sunday after Pentecost
September 8
First: Psalm 104: 14-23 (Graeme, Jill)
Gospel: Luke 12: 22-31 (Jan, Renton)
Theme: Fauna and Flora Sunday
12th Sunday after Pentecost
September 15
First: Psalm 29 (Sue, Neville)
Gospel: Luke 8: 22-25 (Bruce, David)
Theme: Stormy Sunday
14th Sunday after Pentecost
September 22
First: Proverbs 8: 22-31 (8am Joan)
Gospel: John 6: 41-51 (8am Paul)
Theme: Cosmos Sunday
15th Sunday after Pentecost
September 29, Confirmation
NB: If you are unable to do your duty on the rostered date, please try to arrange a swap with someone on this Roster. If you are unable to arrange a swap, please choose a person who is not on this month's Roster to fill in for you, then please notify Noeline in the Parish Office.
Rest Home Worship Services
Palms Rest Home: 10.30am Tuesday September 3
Palms Hospital: 11am Tuesday September 10
Lakeside Rest Home: 10.30am Wednesday September 11
Pukekohe Hospital: 10.30am Wednesday September 18
Possum Bourne Village: 11am Tuesday September 24
Franklin Village: 10.30am Thursday September 26
Anyone who wishes is welcome to join us at these services
Property
Moving of St Paul's Church to be next to the Buckland Community Hall. We are still hoping to move forward on this project but we are awaiting responses from the Ministry of Education and the people of Buckland.
At St Andrew's we have applied for a grant to conduct a feasibility study on restoring the church building in order to comply with the required earthquake standards.
Thank you to everyone who helps keep the Parish buildings and grounds in order. It is a big job.
Round the Parish
Women's Fellowship
The Women's Fellowship members invited fellow parishioners to join them for a yum cha lunch in Pukekohe last month. Thirteen of us enjoyed the relaxed time together. This was a new experience for most of the group and a very happy occasion. Next month we meet at the church to share a short Eucharist service before going out for a coffee somewhere local.
Op Shop Help Needed
Our Op Shop is desperately short of helpers. We have had many of our staff either moving out of the area or unable to assist in the Op Shop for personal reasons. The shop provides an opportunity to meet different people and develop friendships as well as serving the community financially. All proceeds go to provide for people who are in need of support to get back on their feet, facing change or challenges in their life.
You can help us if you have one or more days in a month from 8.30 to noon on a Wednesday, Friday or Saturday morning.
We would love to hear from you if this is something you would like to assist with. Please contact Judith and Alistair Parke, phone 09-239 0176 or Jan Wallace, phone 0274-521 366.
Many thanks
Silver and Brass Cleaners
We are having a big turnover of staff in this area. A big thank you to Anne Gardner, Joan McDonald and Diane and Jack Goodison who are retiring from this role and thank you to Rowena Mara, Julie Perilini, and Sue Muir for joining Jan Scarth in this important ministry.
Parish Breakfast and Confirmation
Special Service, 9.30am, Sunday September 29, St Andrew's Pukekohe. Presiding Bishop and Preacher Bishop Ross Bay
Confirmation candidates are Heather Wrigley, Chelsea de Kock and Emma Wallace. This service is preceded by a Parish breakfast and a time of sharing at 8.30am. While there will be a very short service at 8am I would appreciate people coming to 9.30am because there are candidates from both services and there will be organ and guitar songs.
All Welcome
Concerts at St Andrew's
Handel Consort & Quire present:
Tudor Motets & Madrigals at 3pm on Sunday September 8
Julius Caesar on at 3pm on Sunday October 13
Christmas concert on Saturday December 14 (time TBA)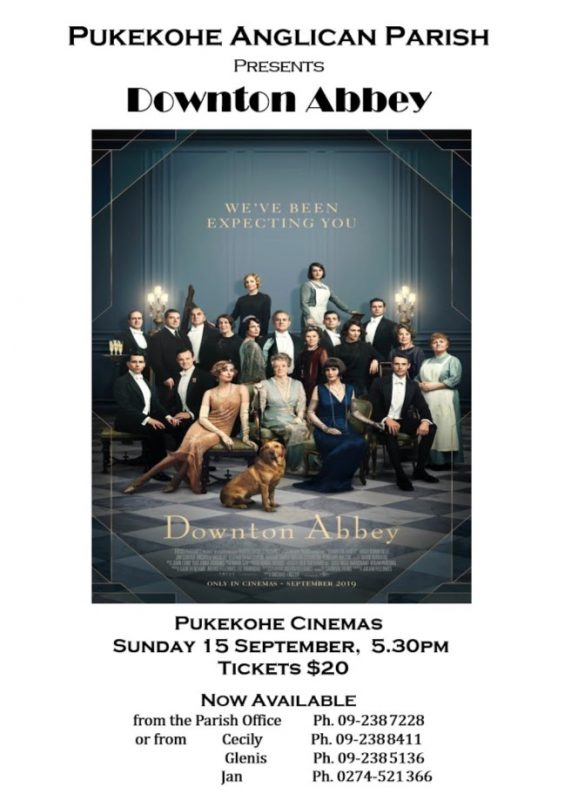 Bring Cash for Raffles
The Cinema also pays us 50c per item for sales of icecreams, popcorn, wines, beers, coffee, etc. If you have tickets but don't think you can sell them, please return them to the Parish Office so they could be sold by someone else. Thanks!
"MU Crawl"
9am, Saturday October 12
Otherwise known as "the local Ministry Unit Indaba", this is an opportunity for us to get to know our neighbours better. Mark your diary now.
Outline for the day
9am: Porridge at Onewhero for the early birds
10am: Morning worship and tea St John's Tuakau
Cruise through the new developments in Pokeno and on to St Mary's Church on the hill
Move on to St Peter's Bombay for lunch and view the historic church
3pm: at St Bride's Mauku to view the church and newly planted trees followed by afternoon tea
5pm: Return to St Andrew's Pukekohe for Eucharist and dinner
At each venue the local parish will share information about their church and activities.
While we are hoping most people will join us for the day we acknowledge this will be a long day so you are welcome to come and go as works in with your other commitments.
It is good to visit another ministry area but equally it is good to support your home parish and assist with the hospitality.
Sustainability Matters
Synod 2019 starts next week and St Andrew's Pukekohe is represented in four of the eight motions to be presented.
Jan is seconding two motions, one on getting the Seasons programme operating in more parishes, the other on pushing the Diocese to do more around climate change actions.
Vicky Mee is also seconding two motions, one on the Diocese taking a stance on improving housing for the elderly, the other on the preparation of a Diocesan Zero Carbon Plan.
For me, I am moving the motion for council to prepare a Diocesan Zero Carbon Plan and had a hand in writing the climate change action motion. As you will know, these are subjects that are important to me.
So why would we want the Diocese to prepare plans around climate change?
To me, the prime reasons are twofold. One is about resilience in the wider Anglican community. Even though we do not yet have a firm idea of their form, significant climate-induced changes are coming and if no one is planning to meet the challenges of those changes, then we will have failed our Church community. The other is about social justice; the justice of the burden of climate change being carried by those who have contributed the least to the drivers of global warming that have led to climate change.
Is there a role for our Church to play in these two aspects? What do you think? Have a look at our website cherished-earth.nz and let us know your thoughts.
Cheers,
John Allen
Sustainability Fieldworker | Anglican Diocese of Auckland
Ph. 021-463 686
john@wjohnallen.nz | cherishedearth@auckanglican.org.nz
What's Happening/Social Opportunities
Volunteers are URGENTLY required to help in the Op Shop
Please contact Jan Wallace.
Mothers' Union
Wednesday September 4 at 10.30am. All Welcome
Downton Abbey
Don't forget tickets are available now from the Parish Office or from Cecily Daroux and Glenis Kerr for our Movie Fundraiser on Sunday September 15. Tickets $20. A reservation for dinner will be made at Jessica's Restaurant. If you would like to join us, please add your name to the list in the Church foyer or phone the Parish Office as soon as possible. The reservation is being updated regularly because the restaurant is expecting heavy bookings due to this being V8 weekend.
Women's Fellowship — Service and Outing
Meet at the Church for a Eucharist service on Thursday September 19
Parish Breakfast and Confirmation
Sunday September 29
There will be a shortened 8am service followed by the Parish Breakfast at 8.30am, then the 9.30am service is Confirmation. We hope you will join this service. All Welcome.
MU Crawl, otherwise known as "the local Ministry Unit Indaba"
Saturday September 12 from 9am. See advert elsewhere in this issue.
Regular Events
Reflective Spiritual Growth at 2pm on the 1st and 3rd Wednesday of the month. Please contact Jo for details. Ph. 238-7716.
Tuesday Night Study Group 7pm — 8pm. Please see Jan if you are interested in joining this group. Ph. 238-7723 or 0274-521366.