Vicar's Address
Confirmation
Welcome to our monthly Messenger.
Over the past couple of months we have been running a few groups relating to our worship services and also exploring what Christian Discipleship really means.
Firstly we had a group of 11 young people gathering each Friday for five weeks as we worked through the book Going to the Supper of the Lord. The title of the book we use does not actually have any real relevance today, as we welcome all who are baptised to join us as we celebrate in our communion together and share in the sacraments. I believe it is important to stop and reflect on what we do and the significance of this very special service. As I am sure most of you are aware the service has several names which are all significant.
The Communion — as we come together in thanksgiving, praise and worship as we celebrate our life together as God's family.
The Lord's or the Last Supper — as we recall Christ's last meal on Earth where Christ was in the upper room with his disciples and broke bread, gave thanks to God and shared it with his closest friends, his disciples. After the sharing of the bread he took the cup and again gave thanks to God before again sharing with his disciples.
The Eucharist — the Great Thanksgiving. It is important we continuously reflect on God's goodness to us and to give thanks.
All Eucharistic services should follow the same pattern as laid out in our prayer book.
During the course we reflected on how the services have the same pattern as welcoming a guest into our homes to share a meal.
We greet each other remembering why we are gathering — to praise and worship God, through Christ and in the power of the Holy Spirit.
We apologise for any things that we have said or done to each other that we know we shouldn't. If we have done that we may have upset or hurt them. In church this is called our confession and we extend this to what we have done that is not pleasing to God in caring for each other, fellow worshippers, strangers, people who are in need and for our world. This is not just our personal statement but as we come together it is our statement about what we as a community have done or have left undone that is not pleasing to God.
We read our scriptures; we tell our stories as children of God which is all of us. Every time we share the Eucharist we must have a Gospel reading as we recall Christ's presence on Earth and his teaching us how to be disciples. We pray to God, remembering to both thank God and to hold before God the needs of others.
We make statements affirming our faith and belief in God and we come together to share in our memorial to Christ's life, death and resurrection in our sharing of the bread and wine.
We are sent out to carry on God's work in the world with God's blessing, refreshed and renewed by the Holy Spirit to continue Christ's work in the world.
You may have wondered why we extinguish the candle on the left first when you are facing the altar at the end of each service. This candle represents the Gospels and it does not stand on its own.
Our teenagers who are being confirmed have worked with me as we discussed the Ten Commandments and the relevance of these to our lives today. We also discussed the promises that are made in the Confirmation service as we seek God's strengthening of us and our lives as we continue to seek to be God's disciples in our world today.
It is because of this statement of commitment that the age for Confirmation has increased to one where we acknowledge sufficient spiritual understanding for the person to make their own personal statement of commitment.
Over the years with the increasing of the age of Confirmation some older members of church have not had the opportunity to make this confirmation of their faith and yet would like to do so. If you would like to know more about this, please talk to me about it.
The adults have read and discussed the book written by Rowan Williams, retired Archbishop of Canterbury, called Being Disciples — Essentials of the Christian Life.
This is interesting although we need to translate it to today's life here in our New Zealand culture. It has challenged our thinking around being disciples, what faith, hope and love mean in our faith, forgiveness and what this really means to us. What does holiness mean to us and what is it that we are striving for in this respect? What is the importance of faith in society, in making moral decisions and its place in governance of our country? Of course the importance of the gifts of the Holy Spirit is pivotal in our seeking to be disciples. Each person brings their unique gifts to share and we have a much richer environment when every individual shares these gifts, contributing in ways they are able, and just as we all need to share our gifts so we need to be able to receive and treasure the gifts of others.
As it says in 1 Corinthians 12: 12-26
One Body with Many Members
12 For just as the body is one and has many members, and all the members of the body, though many, are one body, so it is with Christ. 13 For in the one Spirit we were all baptised into one body — Jews or Greeks, slaves or free — and we were all made to drink of one Spirit.
14 Indeed, the body does not consist of one member but of many.
15 If the foot were to say, 'Because I am not a hand, I do not belong to the body', that would not make it any less a part of the body. 16 And if the ear were to say, 'Because I am not an eye, I do not belong to the body', that would not make it any less a part of the body. 17 If the whole body were an eye, where would the hearing be? If the whole body were hearing, where would the sense of smell be? 18 But as it is, God arranged the members in the body, each one of them, as he chose. 19 If all were a single member, where would the body be? 20 As it is, there are many members, yet one body. 21 The eye cannot say to the hand, 'I have no need of you', nor again the head to the feet, 'I have no need of you.' 22 On the contrary, the members of the body that seem to be weaker are indispensable, 23 and those members of the body that we think less honourable we clothe with greater honour, and our less respectable members are treated with greater respect; 24 whereas our more respectable members do not need this. But God has so arranged the body, giving the greater honour to the inferior member, 25 that there may be no dissension within the body, but the members may have the same care for one another. 26 If one member suffers, all suffer together with it; if one member is honoured, all rejoice together with it.
This is what it truly means to be the Body of Christ, The Church.
Our thoughts and prayers are with Heather Wrigley, Chelsea de Kock and Emma Wallace in their confirmation.
Blessings to you all.
Jan

Parish Confirmation Service
Sunday 29 September 9.30am
Chelsea de Kock, Heather Wrigley, Emma Wallace
Bishop Ross will be preaching and celebrating.
Music will include organ and guitars.
Please join Bishop Ross, our people who are being confirmed and fellow parishioners for our Parish Breakfast at 8.30am.
Please add your name to the list in the Church foyer or ring the Parish office to register for breakfast.
It would be great if we could all join together for one service on that day.
Synod
It was certainly a Synod of mixed emotions this year.
Vicky Mee and John Allen joined me as our lay representatives at Synod this year. I always find the Eucharist on the opening night of Synod a very moving occasion as a large gathering of people actively involved in the life and work of the Church join together from all parts of our diocese to worship together. I always enjoy the singing of the gathered body as people join in singing lustily. This year we were blessed by Bishop Jim White presenting the sermon. This again was very moving. As I have commented previously, Bishop Jim is very unwell and I do ask that you keep him and his family in your prayers.
At the end of Synod Bishop Jim joined us again to announce that he was taking medical retirement. This was a very moving moment for everyone who had the privilege of experiencing Bishop Jim's ministry and work in the Church.
Bishop Ross carried the Synod gathering extremely well despite the load he was carrying.
The usual bills and synodical business, including reports and statistical reports, were received and discussed.
The report of the work of the City Mission was outstanding as the City Missioner, Chris Farrelly, talked of being joined by medical and other professionals as they went out into the streets of Auckland in the mornings and met the vulnerable people who used the city streets as their sleeping places.
The motions were fewer this year but the content of them was very important as we discussed how we might improve our care for God's people and God's creation for which we have had the gift and the responsibility of care.
The motions included: Displaced people and refugees, the shortage of housing by way of one- or two-bedroom homes for the disabled and older members of our community who have no way of ever buying a home of their own. This has been out of their reach throughout their life for many and for others it has resulted from situations in which they have found themselves. The need for us to look at the effect of our actions on the environment and how we may be able to support each other for the Church to be able to fulfil its responsibility for care of God's world.
There is a need for us to promote the minimum living wage for all employees. Without receiving the minimum wage, it's impossible for people to ever be in a situation where they can buy a home. People are struggling to meet the essentials for daily living and the cost of rent makes suitable accommodation unaffordable hence an increasing number of elderly people are amongst the homeless.
We discussed the need for more Seasons For Growth Programmes in the Auckland region to assist with the care of people who have experienced significant changes in their lives.
Thank you
To everyone who supported the parish fundraising movie night, Downton Abbey. Expected Proceeds: Movie $2081, Raffle $365, Total $2446
October Bible Readings
6 October
First: 2 Timothy 1: 1-14
Gospel: Luke 17: 5-10
Theme: The Heirloom of Faith
17th Sunday after Pentecost
13 October
First: Jer 29: 1, 4 — 7
Gospel: Luke 17: 11 — 19
Theme: St Francis' Day
18th Sunday after Pentecost
20 October
First: 2 Timothy 3: 14-4:5
Gospel: Luke 18: 1-8
Theme: Faith Persists
19th Sunday after Pentecost
27 October
First: 2 Timothy 4: 6-8, 16-18
Gospel: Luke 18: 9-14
Theme: Be Satisfied
20th Sunday after Pentecost
Rest Homes
Palms Rest Home: 10.30am Tuesday 1 October
Franklin Village: 10.30am Thursday 3 October
Palms Hospital: 11am Tuesday 8 October
Lakeside Rest Home: 10.30am Wednesday 9 October
Pukekohe Hospital: 10.30am Wednesday 16 October
Possum Bourne Village: 11am Tuesday 22 October
Anyone who wishes is welcome to join us at these services
From the Parish Registers
Funerals
WESTON, Margaret Eileen, 22 August
KENT, Allan, August
GARDNER, Oke Ann (Ann), 7 September
Ann Gardner
Our sympathy goes to Ann's family on her passing. Ann was a very active member of the Parish, in the Women's Fellowship, assisting in the Op Shop and involved in a range of community activities. Rest in peace Ann
Around the Parish
Op Shop Volunteers
Our Op Shop desperately needs helpers. We have had many of our staff either moving out of the area or unable to assist in the Op Shop for personal reasons. The Op Shop provides an opportunity to meet different people and develop friendships. All proceeds go to provide support for people who are in need, facing change or challenges in their life. If you have one or more days in a month from 8.30 to 12 noon on a Wednesday, Friday or Saturday morning and could assist, we would love to hear from you.
Please contact Judith and Alistair Parke, phone 09-239 0176 or Jan Wallace, phone 0274-521 366.
Selwyn Group Helpers
Volunteers are also needed for Selwyn group every fourth Thursday of the month. Please contact Jo O'Malley 0274-696865 or Jan.
Blessing of the Animals
Sunday 13 October, 9.30am, St Francis' Day Service
All Souls' Day
Memorial Service, Sunday 3 November 5pm.
Indaba 2019
Saturday 12 October
Anglican Churches in Tuakau-Onewhero, Bombay-Pokeno, Mauku, Pukekohe-Buckland join for the local Ministry Unit Indaba. It's a day-long event for journeying, meeting, dialogue (in each venue we will see the churches, hear about the ministry and enjoy hospitality).
All Welcome
9am St Stephen's Church, Onewhero, 648 Onewhero-Tuakau Bridge Rd ~ porridge, coffee and Thanksgiving
10am St John's Church, Tuakau, 150 George Street (opposite the south end of George St) ~ presentation and discussion; morning tea. Contact: Amanda Caldwell ph. 021-2354998 or Alan Rowe ph. 021-2682801
12 noon Pokeno township via the new development (a travel map will be available)
St Mary's Church on the Hill, Avon Road, Pokeno
To Bombay via Razorback Rd
St Peter's Church, 150 Bombay Rd ~ presentation, discussion, singing and lunch. Contact: Andrew Beyer ph. 0274-508389
3pm St Bride's, Mauku, Findlay Rd (drive up marked driveway or angle park on the roadway opposite the church) ~ presentation, discussion and light refreshments. Contact: Sally ph. 232-1606 or 0272-848 331
5pm St Andrew's, Pukekohe, 31-37 Queen St ~ presentation, discussion, Holy Communion and evening dinner.
Contact: Jan Wallace ph. 0274-521 366 or Alistair Parke ph. 021-213 4804
7pm Close
Please register on the form in the Parish foyer or phone the Parish office.
Julius Caesar in Egypt
Handel Consort & Quire, 13 October 3pm
Top Emerging Talent Will Thrill Franklin Opera Lovers
Handel Consort & Quire, directed by Robert Howell, will be presenting one of Handel's finest operas, Julius Caesar in Egypt, at St Andrew's Church, Pukekohe on Sunday, 13 October at 3pm, featuring two of Australasia's most talented emerging soloists as Caesar and Cleopatra.
English-born, Australian-based counter tenor Hamish Gould will star in the title role of Julius Caesar. Among his many achievements in performance and competition, Hamish won the Monash Aria and Concerts competition in 2017. A review of his performance as the Sorcerer in Dido and Aeneas notes that "Counter tenor Hamish Gould was a particular highlight", and on another occasion a reviewer comments that the Quae Moerebat of Pergolesi's Stabat Mater "… was exquisitely performed by Gould …"
Elizabeth Mandeno is starring as Cleopatra. Elizabeth has performed as a soloist alongside Dame Kiri Te Kanawa and Dame Felicity Lott. She has an MA with Distinction in Advanced Vocal Studies from the Wales International Academy of Voice and is also a Freemasons NZ Opera Artist. It has been said of her performance in Brahms' Requiem that "Elizabeth Mandeno's soaring, elegant soprano etched new paths into our memory banks."
Other roles will be performed by soloists of similar calibre, including Andrew Grenon, who has studied at the Wales International Academy of Voice, and Cecily Shaw, winner of a 2019 McCormick Award.
Julius Caesar is Handel's best-known and most-loved opera, and deservedly so. It features some very famous arias such as Piangero la sorte mia, V'adoro, pupille and Da tempeste, all sung by Cleopatra — described by the prominent Handel scholar Winton Dean as "one of the great characters of opera, an immortal sex-kitten whose emotions, if ephemeral, are obsessive while they last". There are no fewer than eight singing roles in the opera.
This production will be staged, with a professional orchestra.
Tickets for the Sunday performance can be prebooked at Pukekohe Anglican Church at discount prices: Adults $35 Seniors $30
Tickets are also available at a $10 discount online at eventfinda or can be purchased at the door for $45 (Seniors $40).
Entry is free for students with ID and for children. (eventfinda fees are $3.88 for adults, $3.75 for seniors)
The concert will also be held at Pitt St Methodist Church, Auckland, at 7pm, Saturday 12 October.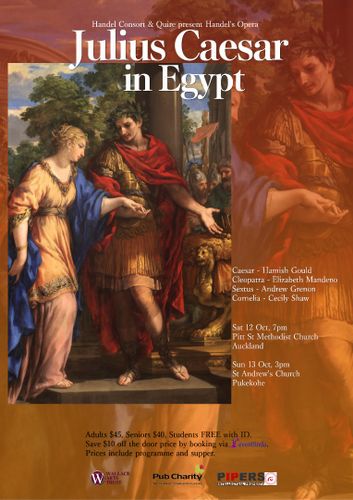 Sustainability Matters
We did it!
Passed them all, that is: All four of the Motions moved or seconded by members of this parish at Auckland Diocese Synod this month.
Jan's motion on bringing the Seasons programme to more parishes is already seeing beneficial results. Vicky's motion highlighting issues for the elderly in the Government's housing programme was well received and there were two motions that I had a particular interest in.
The first recommended ministry units each establish a "Sustainability Champion" role. The other called for a Diocesan Zero Carbon Plan before 31 March 2020. Many will recognise this Sustainability Champion role working here at St Andrew's and our own zero carbon plan will go to Vestry later this month.
That both motions were passed with little dissent gives us the mandate to seize the initiative and make a climate action plan happen. By "us", I mean a collaboration between the Anglican Climate Action Network (Anglicans CAN), the Auckland Social Justice Group and the Youth Social Justice Group ADJust.
My wish is for many people to be directly involved in the process of developing an inclusive and robust climate action plan that can then be implemented across the Diocese with the support of the Parish Sustainability Champions. The process will not be an easy one, but the possibility of achieving the goal of a diocese-wide climate action plan in such a timely, democratic and bottoms-up way is definitely worth the effort. If anyone wants to be involved, either directly or as an observer of the process, then please drop me an email.
Cheers,
John Allen
Sustainability Fieldworker | Anglican Diocese of Auckland
Ph. 021-463 686
john@wjohnallen.nz | cherishedearth@auckanglican.org.nz
Parish Directory
Vicar: The Rev'd Jan Wallace 238-7723 Home
238-7228 Office 0274-521-366 Mob
Email. jan.wallace@xtra.co.nz
Vestry
Wardens Pauline Brown 238-9335 Glenis Kerr 238-5136
Synod Reps Vicky Mee John Allen
Vestry members Alistair Parke (Secretary), Jocelyn Brodie, Renton Brown,
Richard Gibbons, Philip Meyer, Neville Phillips, Philip Watson
Buckland Rep. Jim Moore
Parish Ministry Team
Vestry Wardens 9.30 am Service Glenis Kerr
Family Gael Crimmins Communications Cecily Daroux
Community Vicky Mee Sustainability John Allen
Mission
Education, Worship, Pastoral Care Jan Wallace
8am Service and Op Shop Alistair and Judith Parke
Administration
Treasurer Karen Stevens
Central Vestry Trust Board Treasurer Ros Phillips
Parish Recorder Keith Gardner (Parish Envelope Scheme)
Parish Office Noeline Craighead
Office Hours Monday to Friday | 9.30am ~ 12.30pm
Address 43 Queen St, PO Box 338, Pukekohe
Phone 09-238-7228
Email address pukekoheanglicanchurch@xtra.co.nz
Op Shop 9am ~ 12 noon | Wednesday, Friday and Saturday
Regular Worship Times
St Andrew's
8am & 9.30am Holy Communion
1st Sunday 11.15am Holy Communion (Nora Brown Hall)
1st Wednesday 10am Holy Communion
St Paul's Buckland | 2nd & 4th Sundays 11.15am Holy Communion
Social Opportunities
VOLUNTEERS are required to help in the Op Shop. Please contact Jan Wallace.
Also for Selwyn group every 4th Thursday of the month.
Parish Breakfast and Confirmation Sunday 29 September
There will be a shortened 8am service followed by the Parish Breakfast at 8.30am, then the 9.30am service is Confirmation.
We hope you will join this service. All Welcome.
Mothers' Union Wednesday 2 October at 10am. All Welcome
The local Ministry Unit Indaba 2019, Saturday 12 October from 9am. See ad elsewhere in this issue.
Blessing of the Animals ~ St Francis' Day service Sunday 13 October 9.30am
The Handel Consort & Quire presents Julius Caesar in Egypt 13 October at 3pm at St Andrew's Church
Women's Fellowship ~ Service and Outing. Meet at the Church for a Eucharist service at 10am on Thursday 17 October
Regular Events
Reflective Spiritual Growth at 2pm on the 1st and 3rd Wednesday of the month. Please contact Jo for details. Ph. 238-7716
Tuesday Night Study Group 7pm — 8pm.
Please see Jan if you are interested. Ph. 238-7723 or 0274-521366